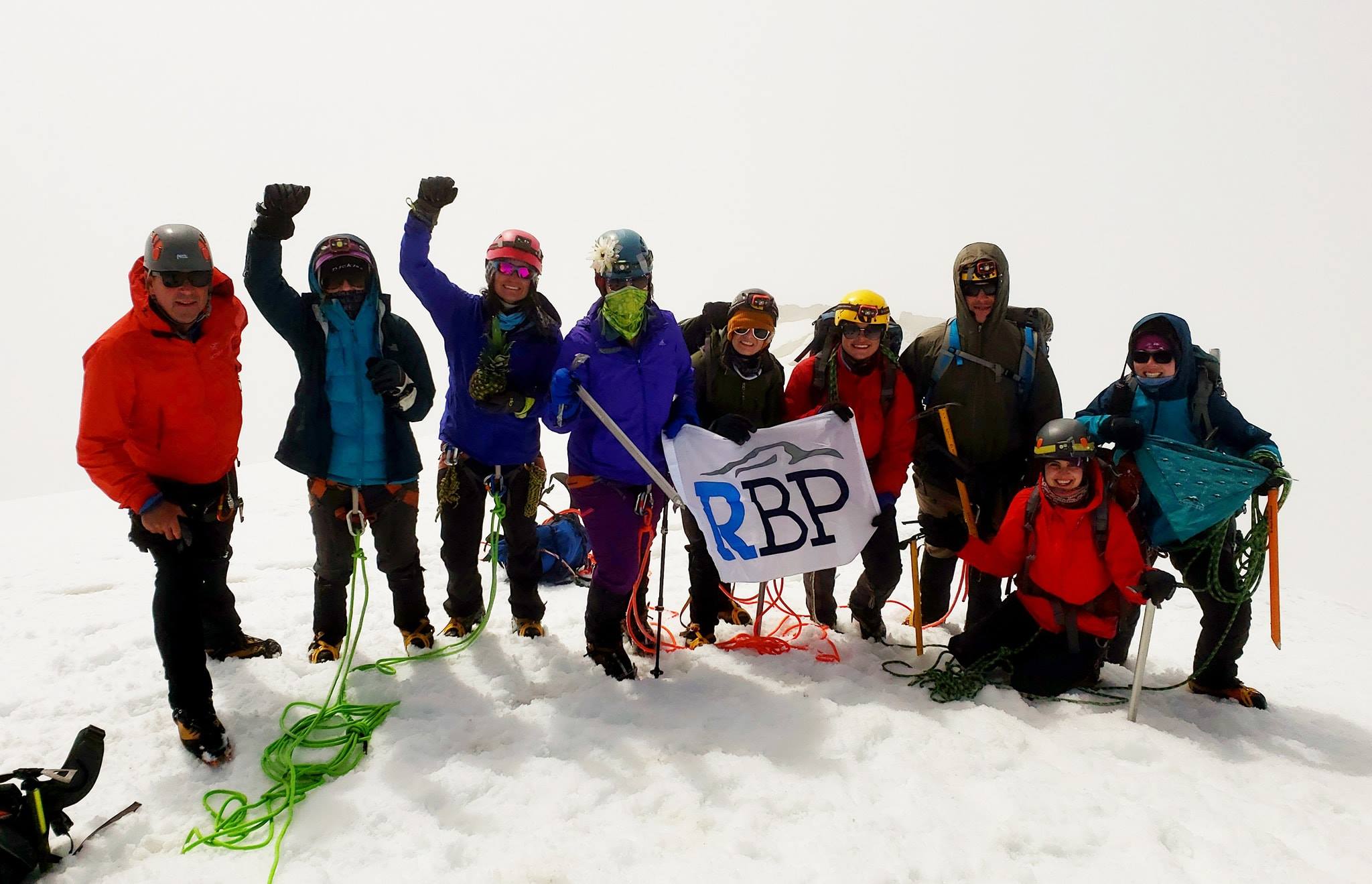 I'm climbing Mt. Rainier to raise funds for Recovery Beyond – an organization that provides a sober community for men and women overcoming addiction, building healthy relationships through incredible outdoor adventures!
$4,345.00
donated of
$5,050.00
goal
Campaign has ended
First and foremost, your donations will provide life-changing relationships and incredible outdoor experiences to men and women overcoming addiction and pursuing a sober, healthy lifestyle. When we reach my goal of $5,050.00, we will have sponsored 2 individuals in a year-long recovery program to be able to participate in Recovery Beyond's supportive recovery community. What a win!
But why would mountaineering matter to someone in recovery?
Usually, when I tell someone I climb mountains with "former addicts", I get a response along the lines of, "That's so cool! If you can climb a mountain, you can do anything, right?!" Well, yes… and no. Reaching the summit of a big peak is incredible. For most of our recovery climbers, it's something they would never have a chance to do outside this program. But if you ask any of these men or women what the true benefit is, they'll tell you it's about the team.
Healing happens through trusting relationships.
Most men and women in addiction end up in that place due to deep traumas. Many do not trust anyone – and for good reason. I know one recovery climber who was taught to shoot up heroin by his own mother. That was her idea of a 14th birthday gift for her kid.
When the people who are supposed to keep you safe hurt you, or abandon you. You learn not to trust.
Recovery Beyond combats this cycle of hurt and broken trust by offering men and women enrolled in year-long recovery programs a safe, healthy community in which to practice trust.
Yes, if these climbers reach the summit, it's huge. But in their recovery journey, reaching the point of choosing to rope up to others – friends they know they can trust with their life – and being offered that same trust in return? That's truly life changing!
So what's my role in this?
It was my great joy to connect with the Recovery Beyond program in the fall of 2017, through my work as Executive Assistant at the Tacoma Rescue Mission. I began with the desire to get outdoors more, take better care of my body, and get to know the men and women in our recovery program. I thought I might be able to climb as far as Camp Muir (Mt. Rainier's base-camp). A few months in, I found myself thinking, "Maybe I really can summit a mountain!" right alongside my teammates in recovery. We came to believe we could do this – together.
It was one of the high points of my life to reach the summit of Mt. Baker in July of 2018 with these men and women, who have become dear friends. And it is my deep honor to journey with them as they continue to climb the greatest mountain of their lives – overcoming what led them to addiction, and choosing to pursue healthy relationships and a life of sobriety. They are truly my heroes.
I have continued my volunteering with Recovery Beyond in 2019, helping to lead weekly workouts for our women's program, attending monthly training hikes, and now joining the Fundraising Climb of Mt. Rainier to support this incredible organization.
Please join me by donating to make these experiences, and this life-changing community of support, available to men and women who are doing the hard work every day to break the cycle of addiction, live healthier lives, push through the pain – and (as our team motto goes) RISE ABOVE!